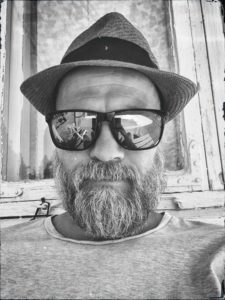 My name is Eirik Østbakken (born 1975) Im a contemporary Norwegian artist, photographer and graphic designer.
I was born and raised in Oslo, Norway, and after a period in Berkeley, California I am now back in Oslo again.
Feel free to follow me on Instagram @eirik_ostbakken
My work
My latest work is a series of paintings and photos named Conjoined. The characters in the paintings are two or three people connected in different ways – like conjoined twins – who want to get away from each other. They fight and shoot, either itself of the other twin, scream and gasp for air.
The paintings visualize the anxiety and frustration that can arise when we are in a situation or a place we cannot escape, like illness, poverty, integration, unemployment, violence, griev, puberty, alcoholism, drug/substance addiction and solitude.
I started painting conjoined twins in the 1990's and it has appeared from time to time in my work. After struggling with illness for six years, I have now started working on the same theme again.
My other paintings are often related to social issues, express feelings of despair, anxiety, anger, chaos, madness, crime, suicide and has often a hint of political statement. I often camouflage or conceal the darkness and desperation of my characters by using bright and happy colors, as if they wear masks or makeup.
Eirik Østbakken (Født 1975) er en norsk samtidskunstner, fotograf og grafisk designer. Jeg er en selvlært, nyskapende kunstner. Og er for tiden bosatt i Oslo.

Feel free to follow me on Instagram @eirik_ostbakken